Bollywood News
Aaradhya Bachchan's Birthday Bash: Bollywood Celebrities and Their Children Attend the Party
Aaradhya Bachchan, the daughter of Aishwarya Rai Bachchan and Abhishek Bachchan, celebrated her eighth birthday having all the fun with friends and family
Aaradhya Bachchan, the only daughter of Aishwarya Rai Bachchan and Abhishek Bachchan, turned eight years old last night. Like every year, her this birthday party was also celebrated on a grand scale with many celebrities attending the event. While Aaradhya Bachchan already comes from a family of the biggest stars of the country with Amitabh Bachchan being her paternal grandfather, the family also shares close connections with the members of Bollywood. Hence, the big names like Shah Rukh Khan, Karan Johar, and Ritesh Deshmukh were present with their children. Celebrity photographer Dabboo Ratnani was also present with his children.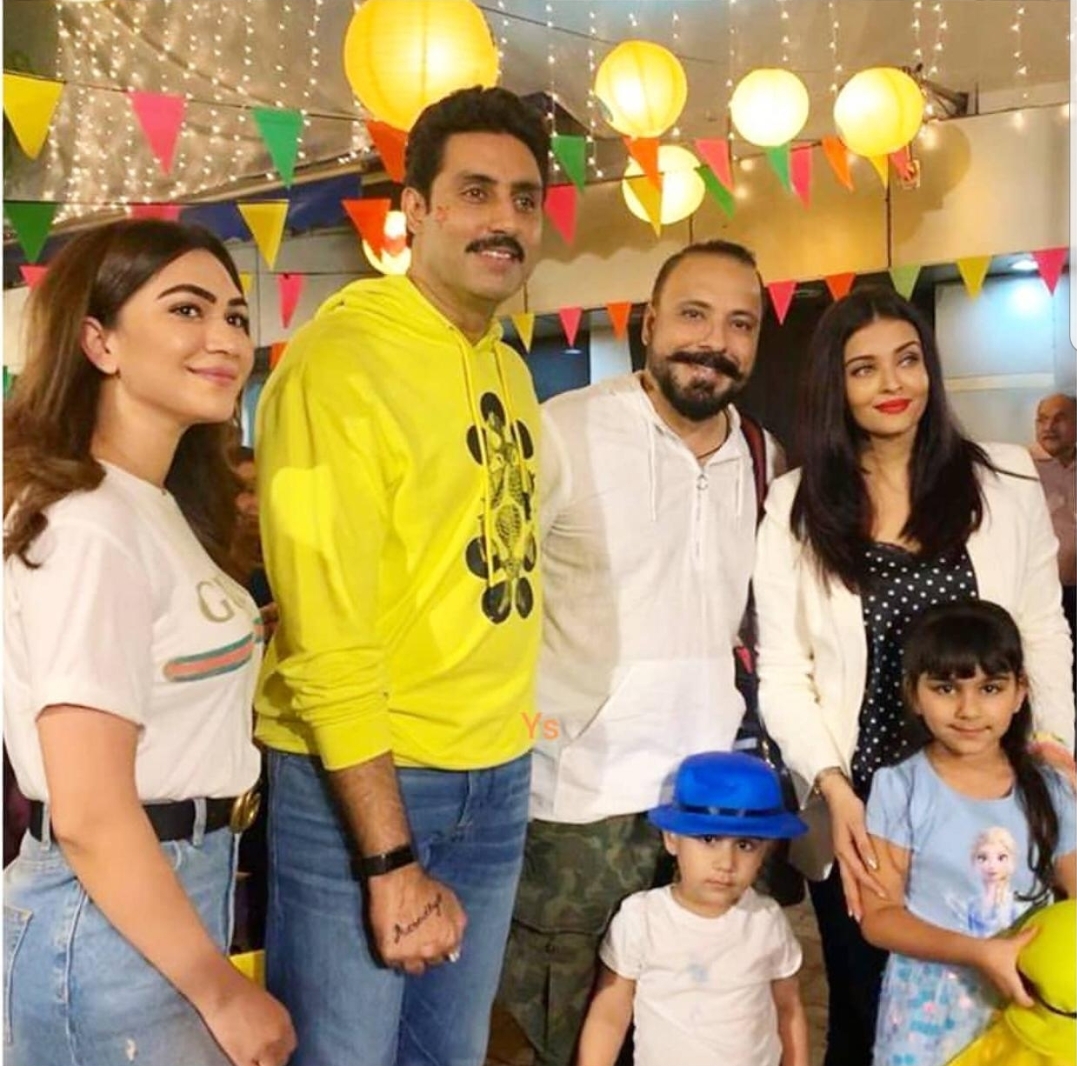 Aaradhya Bachchan's Birthday Bash
Aaradhya Bachchan is the only paternal granddaughter of Amitabh Bachchan and Jaya Bachchan born to their only son Abhishek Bachchan. Obviously, the grandparents had to be present on the occasion and take the center stage while Aradhya cut the cake.
Shah Rukh Khan and Gauri Khan joined Abhishek Bachchan and Aishwarya Rai Bachchan in the celebrations of Aaradhya's birthday with their little son Abram Khan. Unlike his usual black shirt, Shah Rukh Khan was dressed in a white shirt with a matching jacket. He wore blue jeans adding a dash of orange to his refreshing look with the belt. Gauri Khan was dressed in a printed maxi dress secured at the waist with a belt. Abram Khan looked casual and comfortable in black and white activewear.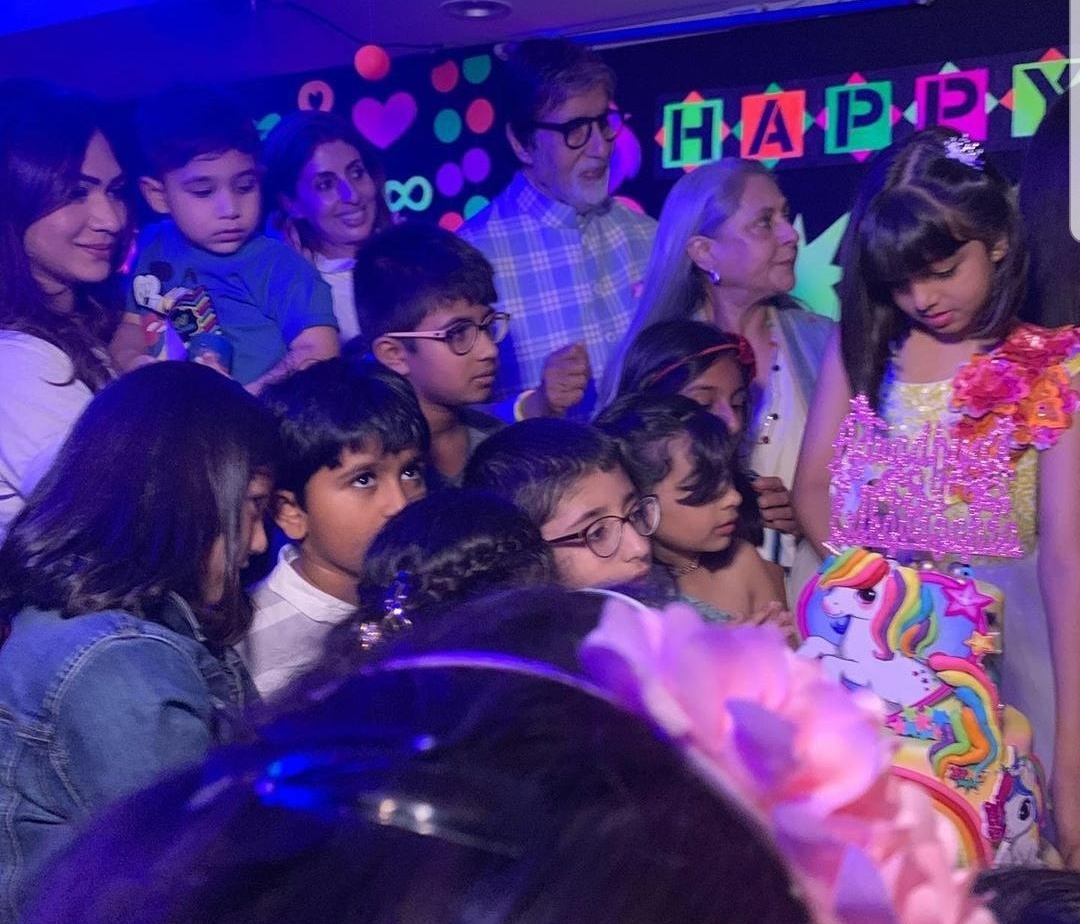 Aaradhya Bachchan's Birthday Bash
Karan Johar entered the venue with his twins Yash and Roohi Johar. Karan Johar kept it casual with a printed jacket and a black t-shirt. Little Yash wore a Fendi jacket with shoes from the same brand as he rested comfortably in father Karan Johar's arms. Roohi looked girly like always in a white printed frock wearing a white hairband with a bow.
Ritesh Deshmukh and Genelia Deshmukh also kept it casual as they attended the event with their two sons. Ritesh Deshmukh also dressed up somewhat like Shah Rukh Khan in a white shirt and ripped blue jeans while Genelia Deshmukh wore a blue shirt with orange shorts.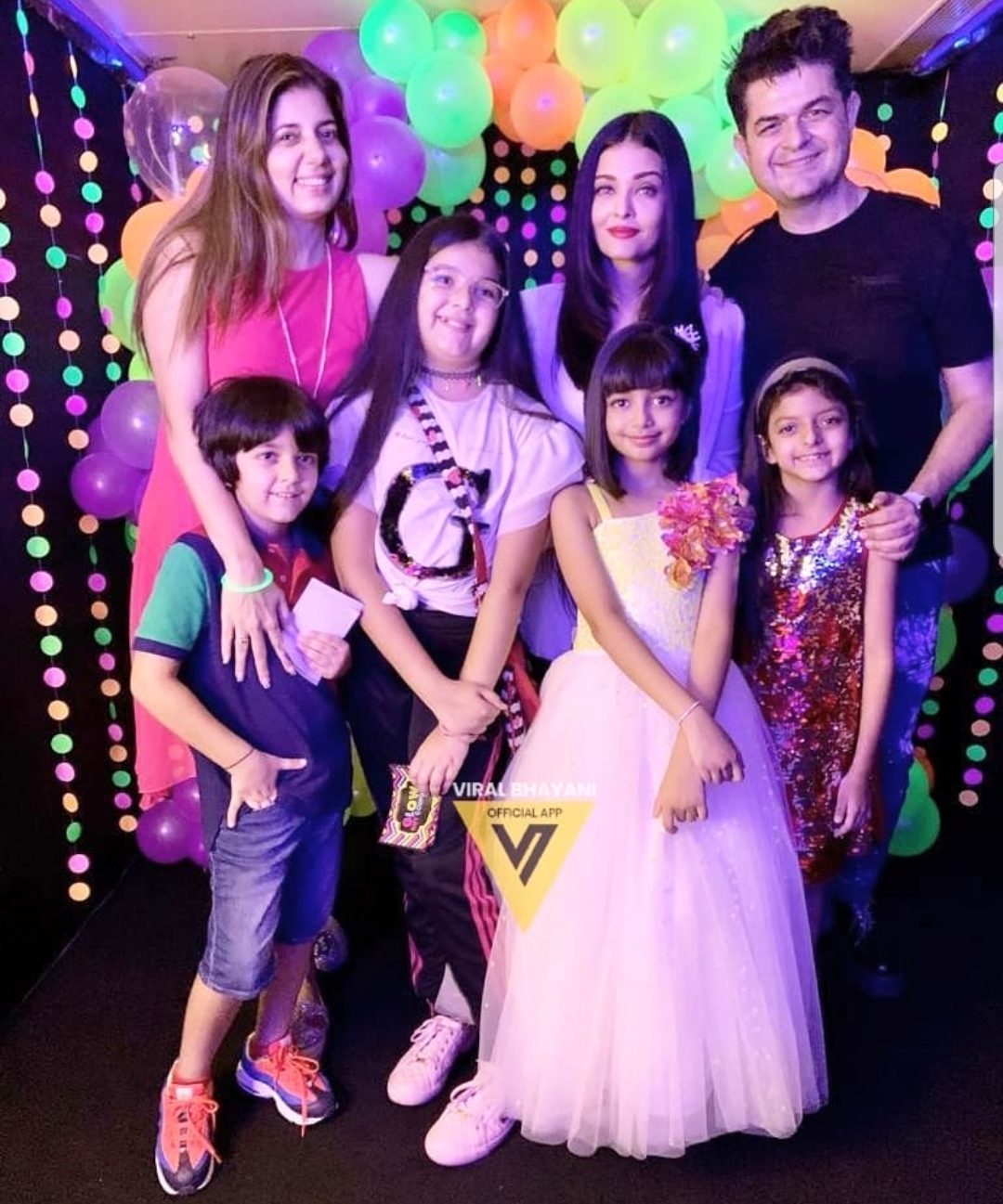 Aaradhya Bachchan's Birthday Bash
Famous socialite and philanthropist Natasha Poonawalla came to the venue with her husband Adar Poonawalla and children Cyrus and Darius. Known for her glamorous style sense, Natasha Poonawalla was dressed in a shimmery pink skirt and a sequined jacket with a printed white t-shirt. Husband Adar Poonawalla dressed more casually in black jeans and a grey shirt.
Celebrity photographer Dabboo Ratnani and wife Manisha Ratnani share a close bond with Aishwarya Rai Bachchan. They are often seen together with her and Aaradhya at various events. They attended Aaradhya's birthday with their three children and also posed for the clicks.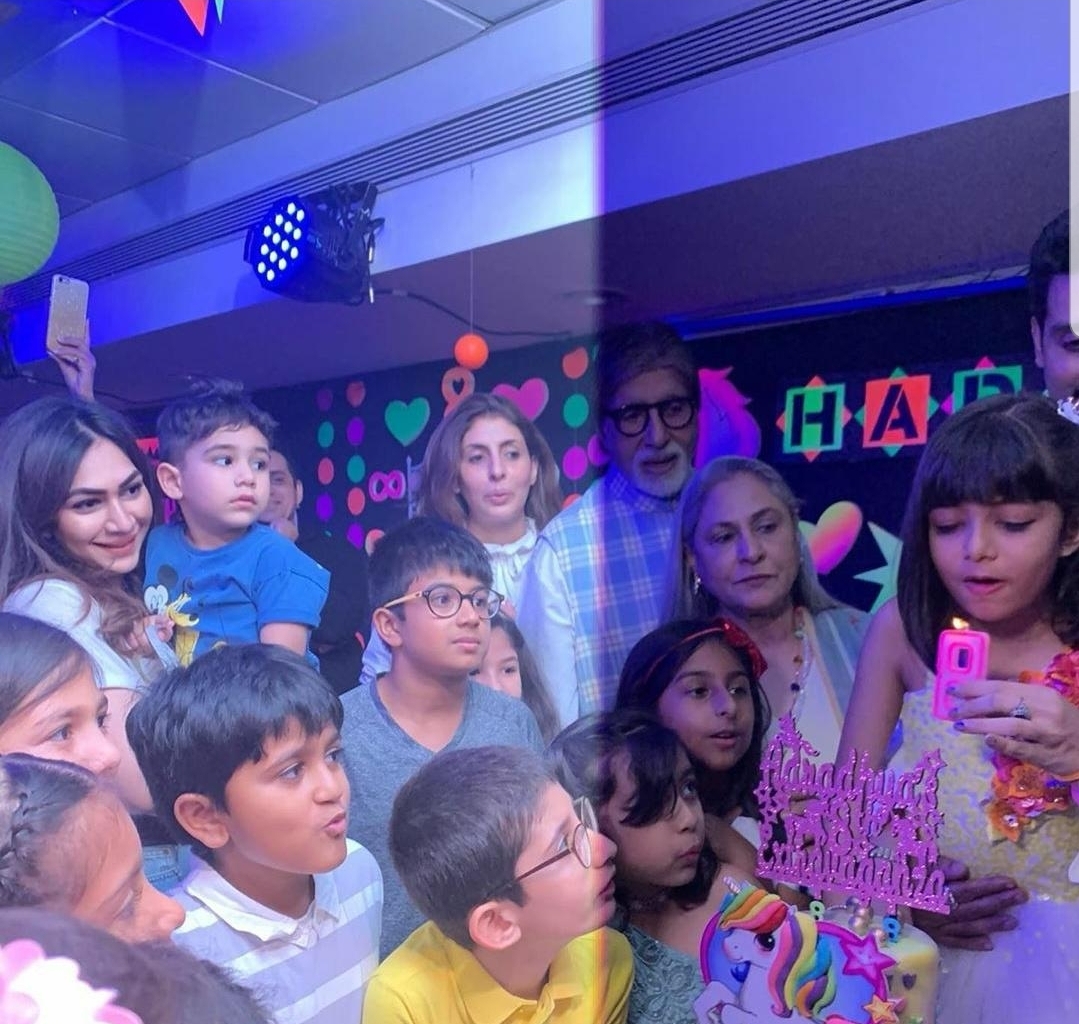 Aaradhya Bachchan's Birthday Bash
The birthday girl Aaradhya Bachchan was dressed in a white structured dress with an orange flower on her shoulder.
Aishwarya Rai and Abhishek Bachchan made sure all the children at the party had a gala time as they also joined them for the ride present at the venue. Abhishek Bachchan dressed in a yellow T-shirt was all smiles as he enjoyed the ride with the guest children and the birthday girl Aaradhya Bachchan.
Unlike most of the celebrity children who do not attend much events, Aaradhya Bachchan has always been present at many events along with mother Aishwarya Rai Bachchan. Aradhya Bachchan also accompanies Aishwarya Rai Bachchan to her international tours. According to Aishwarya Rai Bachchan, she plans all her international commitments around Aradhya's school schedule so that she does not miss out on her education. This is why Aishwarya Rai Bachchan's commitments are mostly planned on a weekend. The doting mother who has recently dubbed for the Disney film Maleficent revealed that she has signed the project because of Aaradhya whose eyes gleamed when she heard of her mother being offered the role.