Bollywood News
Aamir Khan's Daughter Ira Khan Reveals Why Her Dad Did Not Let Her Watch His Films like Ghajini and Fanaa
: Ira Khan shared there was a time when she was not allowed to watch any of Aamir's films as a child. The reason? Aamir did not want her to be left scared of him! How cute
Aamir Khan's daughter Ira is both wise and talented at 22 years of age. While she already understands the responsibility that comes with being a star kid, she does realise that being one does come with its fair share of benefits too. Daughter to Aamir's first wife Reena Dutta, Ira was very young when her parents separated. However, that did not affect her from being the brave lady she is today. Speaking in a recent interview with The Asian Age, Ira spoke about family life, what it means to be a superstar's daughter and more. But she made one surprising revelation too! There was a time when she was not allowed to watch any of Aamir's films as a child.
Aamir Khan stepped out daughter Ira Khan for a meal (Picture credit - Aamir Khan Instagram handle)
"I wasn't allowed to watch his films because I was too young. After Lagaan, I watched all the films except Ghajini because dad said I would be too scared of him. I also missed Fanaa for the same reason," she said. When asked if she helps her father in choosing scripts, Ira added, "Dad takes multiple trials of his films and he takes everyone's opinion. I also tell him what I think about certain films."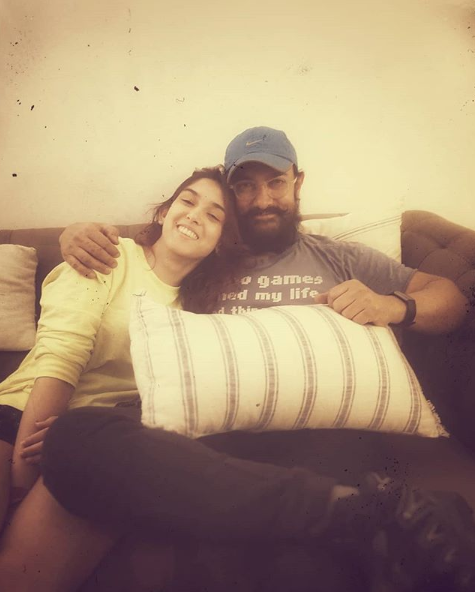 Ira Khan with father Aamir Khan (Picture credit - Ira Khan Instagram handle)
Speaking about her relationship with Aamir, Ira said, "Dad and I are friends. He is there for me when I need him. We enjoy working and don't have time for anything else. We hang out together and play board games." She also weighed in on her rapport with step-mum Kiran Rao. "She is great. We are friends more than parents. But she definitely makes me finish my vegetables so she is definitely a mommy," she quipped.  Ira also understands and accepts what being a star kid is like. "Whether I want or not or if it is intentional or not, I will always get that benefit of being a star kid, but I don't really think about it. It's not in my control, and I can only do my best in whatever I do," she concluded.