Interviews
Aamir Khan: 'Filmmaking is Not a Race; I am Not in the Numbers Game'
Mark Manuel decodes the enigma and the cinematic genius of Aamir Khan
I did not recognise Aamir Khan at first. I was sitting in the actor's vanity van, waiting for him at Mumbai's Film City. His aide set the AC at 24 degrees C and made me comfortable with a mug of tea. Aamir was shooting for Yash Raj Films' period action-adventure Thugs of Hindostan. Amitabh Bachchan, Katrina Kaif and Fatima Sana Shaikh, who played his daughter in the biographical sports drama Dangal, are the other actors in this film.
Aamir's vanity van was like himself. Clean, neat and orderly. The bed was made, cushions in place, American bestselling author Noah Hawley's After the Fall lay on the pillow. A pair of black leather Kolhapuri slippers on the floor and jeans and a magenta tee on a hanger must have been the clothes he wore to the shoot. His make-up mirror blazed with lights. A large armchair draped with a towel waited for him. On a table, tidily laid out, were bottles of water, an ashtray and the remote for a flat screen TV that was frozen with a scene from Aamir's Diwali release Secret Superstar. Also open was a laptop. "Sit where you want," the aide told me. "Where does Aamir sit?" I asked. "Anywhere, it depends on his mood. Sometimes it's on the floor," he said. That's when Aamir clumped in, scruffily dressed, like a thug in character for his film. Large leather shoes, a dhoti-pant and British soldier's frock coat with the sash meant for a sword, ornamental epaulettes, hair frizzy and wild, a large moustache twirling up his cheeks. Like I said, I didn't immediately recognize him. He plonked himself on the bed with a loud sigh, lit a cigarette, picked up his phone and put on a pair of spectacles to read his messages, then said, "Give me two minutes."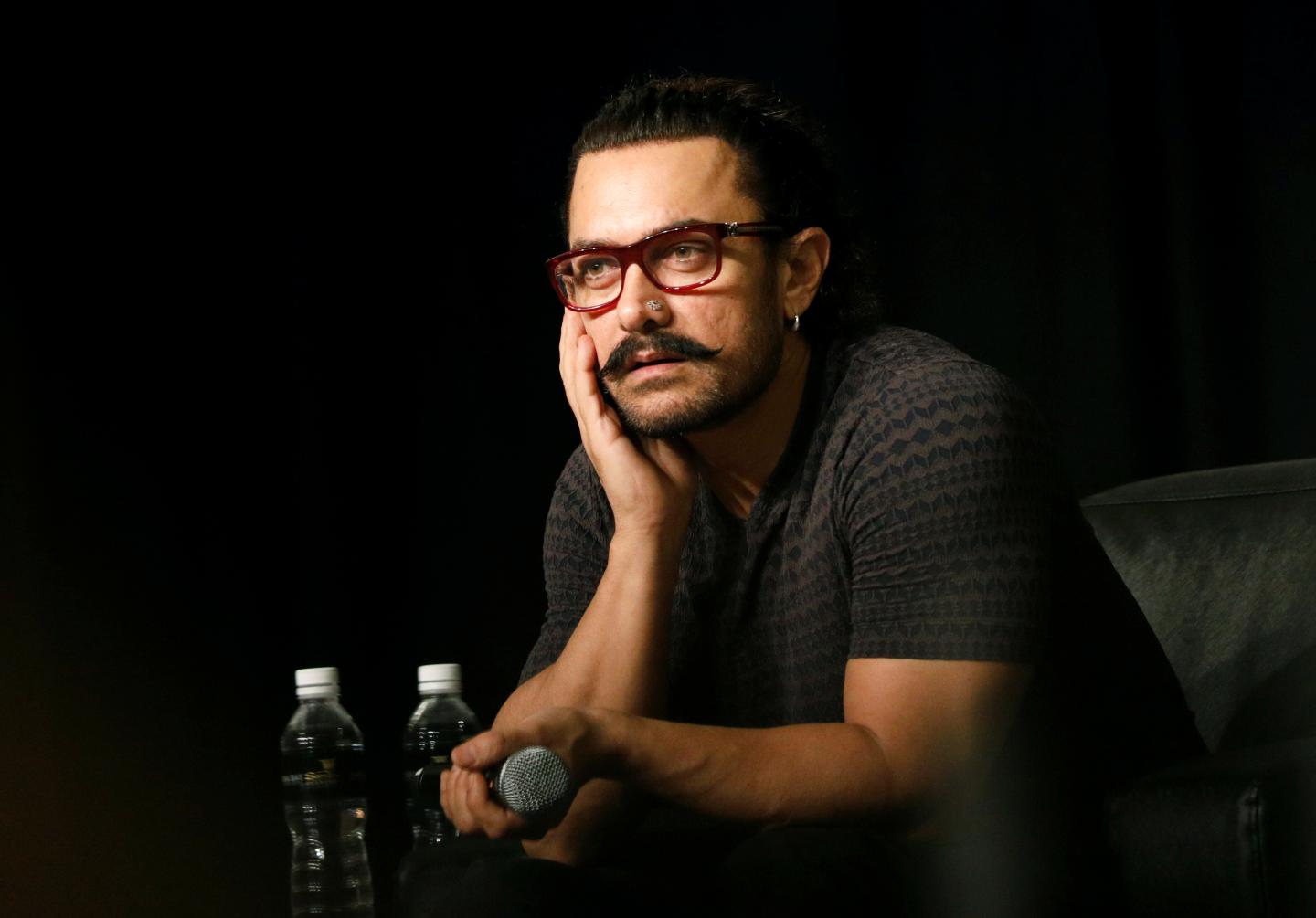 Two minutes later, a big glass of cola and ice in his hands, Aamir was talking to me. I have a strange friendship with him. We've wined and dined at home and in gourmet restaurants many times, we've discussed food and books (Enid Blyton, which he and I read even as adults), smoked cigarettes and cigars, I've attended parties at his house, listened to the Argentine Grammy, Oscar and Golden Globe awards-winning musician and film composer-producer Gustavo Sanataolla sing and play the guitar and piano on one occasion there, watched films, worked out with him in the gym, and on one Makar Sankranti, even flew kites from his Pali Hill apartment terrace! Now he was telling me about the unusual mind space he finds himself in. He's not got over the staggering global box office success of Dangal  that enjoyed an exceptional theatrical run in India, then the US, Canada, UK, Australia, UAE, Taiwan, Hong Kong and even China. "Each time it releases in a new country, I get a lot of happiness and feel a spurt of excitement," Aamir said. His take is that Dangal connects with people everywhere. "The language is not a barrier, the foreign audiences laugh at the jokes, they enjoy the drama, I've been following the reviews, and they say what Indian critics also said. That the film is inspirational, girls go for it, parents are drawn closer to their kids," he told me. "Since 3 Idiots, my films have always done well in China, Hong Kong, Korea and the South-East countries, Dhoom 3 and PK were the tipping point." The dust of the applause over Dangal has not yet settled down but he's now consumed by the anxiety he experiences before every new release with Secret Superstar, and he's also fiercely engaged with Thugs of Hindostan.
I know smoking brings Aamir relief. He's given up the habit several times, then picked it up again before his next release. Other actors may worry about targets set by their contemporaries because Bollywood is unforgiving and actors are only as good as the last hit they delivered. But not Aamir. "I'm not in the numbers game; filmmaking is not a race, it's an art form, an emotional connect with work," Aamir explained. "Everybody has their own priorities. I won't say I'm not bothered with how the rest of the industry works but it doesn't interest me who's No. 1 or who's making how much money. I'm more concerned with what makes me happy. My thrill lies in breaking barriers, in doing unusual stuff; I lead with my heart. If I like a story, I do it. That's how it was with Lagaan, the first film I produced. I went ahead because I liked the script and nobody else was willing to produce it. Yes, I take risks, but I'm not calculating! I work with newcomers, I like experimental filmmakers. My power (yes, you can say that!), lies in bringing about change. My popularity, the faith that the market and my colleagues have in me, the love, support and respect of audiences, these help me to do challenging things which excite me. And I'm grateful. But I want to take my work to another level not seen before. I have no long-term dreams for myself. When I pick up a story, I want to achieve it to its full potential. I live for the moment and in the moment I'm in."
And he corrected me about the anxiety bit. "It's not just anxiety but also the excitement about wanting to show audiences a new film, it's hope and anticipation. I don't sleep at night. I call the director, Advait Chandan, home at 3 am to discuss the film. And Ranbir Kapoor and Ayan Mukherji drop in knowing I am awake. They did this for my last two or three films as well. It's a relief when you have company. We have a drink. Talk about all kinds of stuff. Just hang together. It's a ritual now."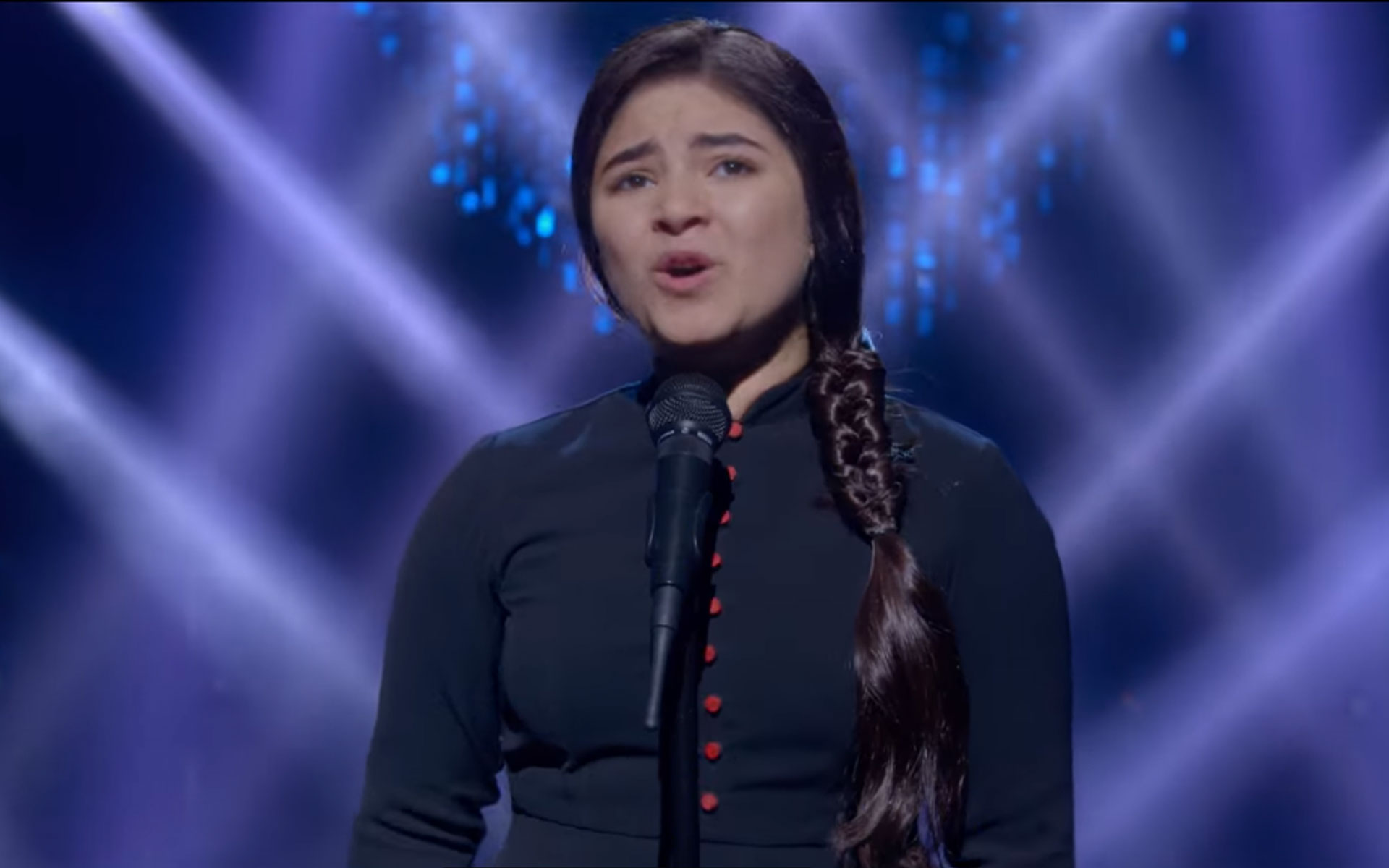 A still from Secret Superstar 
He discussed Secret Superstar with me. It's a musical drama Aamir's produced and acted in about a young Muslim girl aspiring to become a singer but facing opposition from her conservative father. She does what any teenager would do. Launch herself on YouTube, dressed in a burkha, only her eyes visible and expressing the angst, ambition and rebellion of youth in a powerfully emotional song. Aamir is the secret superstar she meets on her journey of self-discovery and he becomes the wind beneath her wings. The actress playing this role is his Dangal discovery, 16-year-old Zaira Wasim from Kashmir. And the film's stirring tracks have been delivered by another Aamir teenage discovery, 16-year-old Meghna Mishra from Mumbai. Aamir's always done this. He's backed newcomers. And in his biggest productions, he's got the courage of his convictions to take a backseat and only make "guest appearances" while leaving the limelight to debutants.
"But I'm not taking a backseat," he protested. "I'm taking my seat. For me, that's the role I play. My character in Secret Superstar is very important but if I tilt the film towards him, then I'll harm it. And my courage of conviction lies in my love for the script. It's so great that I want to do it. Of course, I experience some amount of fear. I don't know if I've got a winner on my hands. But that doesn't come in the way of making the film correctly. I won't deviate from the script by, say, adding an item number."
It was that way also with the film's debutant director Advait Chandan who was Aamir's manager. When Advait approached Aamir with his story, the actor thought he would not be able to carry off his character. So he did a screen test for Advait. Only the second time that Aamir was doing, the first was for wife Kiran Rao's Dhobi Ghat in 2011 because he felt he had to convince her he was perfect for the lead role. He did a test shoot for Raju Hirani's PK though that was for himself – to see if he could get the alien's character right. Everybody who saw his screen test for Advait thought Aamir was meant for Secret Superstar.
Then Aamir put Advait to the test. "When I work with a new director I select six scenes from the script and ask him to shoot, edit and cut them, add some temporary music, and show it to me," he said. "They tell me how much control he has as a director and if he's hitting the right note. After I greenlight him, I trust the director completely, and I come on board as a producer only after that. Advait is bright, sensitive, intelligent, he has good vision, the excitement of a young kid, he's always experimenting and discovering. I like that quality in him. I was not on the sets except when I was shooting. And I did not see the rushes of Secret Superstar until he finished his director's cut."
With Thugs of Hindostan, Aamir is sort of fulfilling two wishes: the first was to work with Amitabh Bachchan; and, the second, to get back to doing action. "All my years, I've been waiting to work with Mr. Bachchan," he said, "but somehow it didn't happen organically. He's wonderful, very gracious, warm and passionate about his craft. I watch and learn so much from him. In Thugs of Hindostan, you will see the old Amitabh Bachchan because this is an action film and that's his forte. I love action too but since Ghajini in 2008 none of my films required me to be in action. Dhoom 3 came later and it wasn't action but bike stunts and car chases. My character in Thugs of Hindostan doesn't require me to be big and ripped. I'm toned down and reduced. I'm a thug. A friend who will stab you in the back, pull the carpet from beneath your feet, an unreliable character." Contrary to his recent films, and the ongoing trend of Bollywood, to produce content-driven films that contain social messages, Thugs of Hindostan is an entertainer. "I am an entertainer," Aamir said forcefully, "and when a person comes to the theatre he wants to be entertained. If he wants a lecture in sociology, he will go to college. All my films don't have messages. Dhoom 3 didn't nor did Delhi Belly. I set out to entertain but also tell audiences something important naturally."
And, finally, in the countdown to Secret Superstar's release, Aamir Khan is in a super charged mood. I could see the excitement on his face, dancing in his eyes. "Films get me charged," Aamir admitted, "I'm consumed by great scripts. And once I get working on them, everything around me fades into soft focus. I become less sensitive, my bandwidth gets limited, I can't say I like being this way but that's the way I work. The effort to bring on screen what is in the script is a huge challenge. I like picking up an unusual script and making it mainstream cinema. Then I'm anxious to see how people react. That's why I do only one film a year. I could do more, of course, but when I'm doing a film all my energies are into it. At that point, I don't enjoy taking on anything else. I'm not a factory or a huge production system. I'm... kya bolta hai... a handloom product. A one-machine-one-person-one-shirt kind of actor. I'm not a large-scale outfit producing a million shirts."
(Mark Manuel is a senior journalist and founder Peepingmoon.com, a leading Bollywood and entertainment website)