News
'A Piece of Dubai's History' to End With the Demolition of Ramada Hotel Bur Dubai
The hotel's old world charm is unable to compete with the ferocious competition
It was in 1983 when the Ramada Hotel in Bur Dubai opened its doors for the first time to the public. Much of Dubai was still a desert then, and soon as the city developed, the hotel became an important landmark to local residents and a home away from home for its guests and staff.
Local residents and the hotel's staff, some of whom have worked there for more than 30 years, say a piece of Dubai's history will be demolished when the building is bulldozed at the end of the summer, reported an article in 7Days.
"It was the first four-star hotel in the area when there was nothing but desert in Bur Dubai," said Senol Sarisen, the Ramada Bur Dubai's General Manager who added that it was in Dubai's old city where most of the population originally settled.
Built in 1983 the hotel's rickety infrastructure and boxy, old Arabian style building will be razed to make way for a five-star hotel complex with residences and retail shops, it's owners Abjar International announced last Thursday.
Sarisen, who has worked at the hotel for nearly four years, said, "It doesn't fit anymore. It's part of the old city, but the old city is changing. There are other demolitions happening in the area, and new buildings coming up like the St Regis which is just 5-6 minutes away," he said. "In the end you're going to have to compete with these hotels as well."
185 of the hotel's devoted staff, many of who have been there since the hotel opened 33 years ago, will be relocated into one of the company's other properties.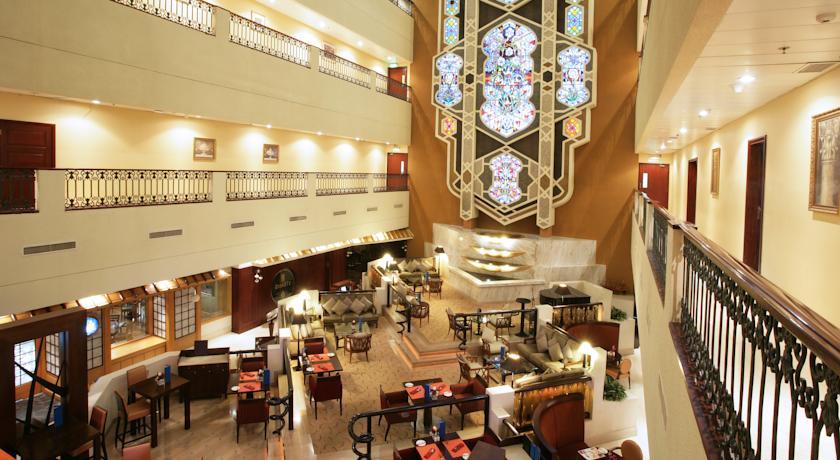 The beautiful stained glass mural overlooking the central atrium of the hotel is also up for sale to the highest bidder. The mural was designed by internationally renowned British stained-glass artist John Lawson, who passed away in 2009, the article said.