Fashion
Boss women of B'Town: 10 Bollywood actresses who rocked a power suit
We show you the best power suits from our favourite stars
Nothing says 'I'm the boss' more than a power suit. Whether it's a simple blazer and trouser combo or a traditional three piece suit, there's no denying that it is one of the most universally powerful fashion looks to have ever existed. In order to celebrate the suit, we take you through our top 10 favourite Bollywood actresses who rock the look.
Aishwarya Rai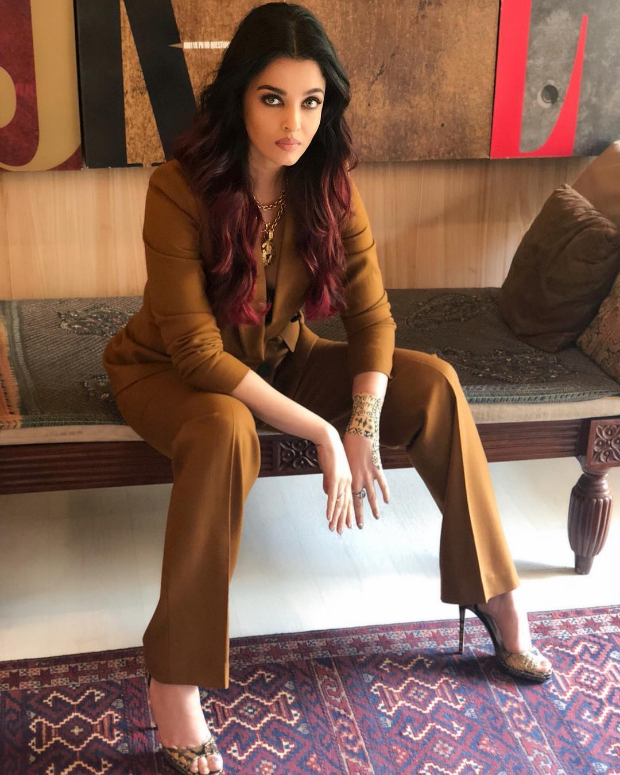 Aishwarya Rai slayed this caramel coloured Massimo Dutti suit. She paired the outfit with some stiletto snakeskin peep toe high heels for that ultra slick business boss look. Aishwarya finished off the look with a thick gold necklace. This image was taken a few years ago, but it remains utterly timeless.
Kareena Kapoor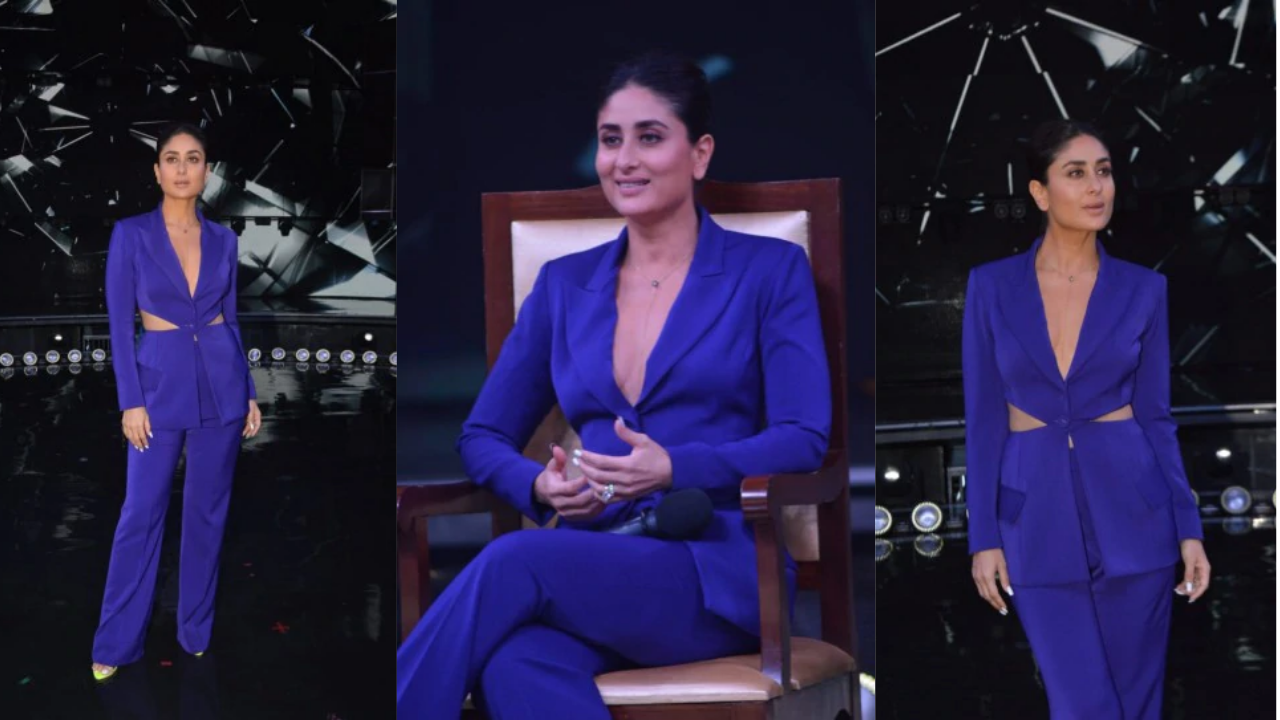 This suit very much reflects Kareena's personality. It's bold, quirky and out there, and we wouldn't expect anything less from our Bebo. The blazer features sharp v-shaped asymmetric cut out details which accentuate Kapoor's waist, and give the suit a more sexy, feminine style. Instead of having two or three blazer buttons, Kareena's suit features one big blue button which creates a focal point for the suit.
Shraddha Kapoor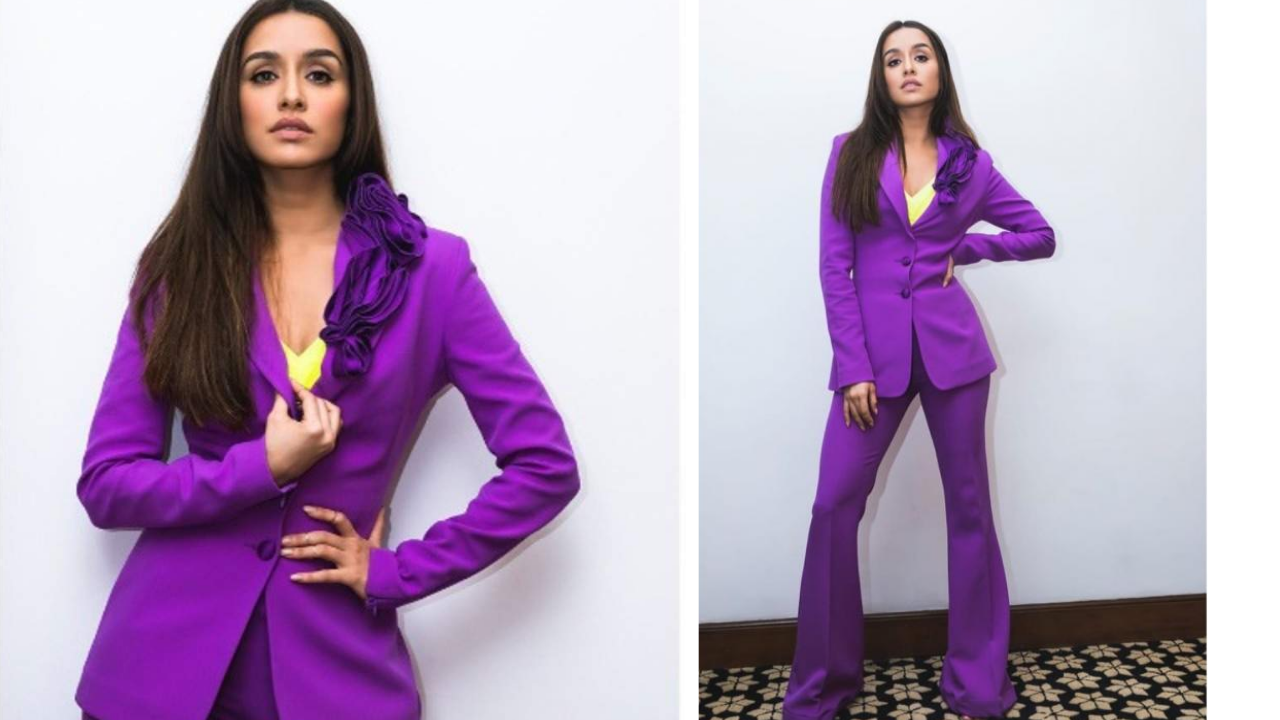 We're used to seeing Shraddha Kapoor in Indian clothes, so this purple suit was a truly memorable look for the 33-year-old actress. The deep purple suit features a flamboyant flower detail on her left collar, and her suit trousers have a dramatic 70s style flare which cinch in the thighs and lengthen the legs. 
Kangana Ranaut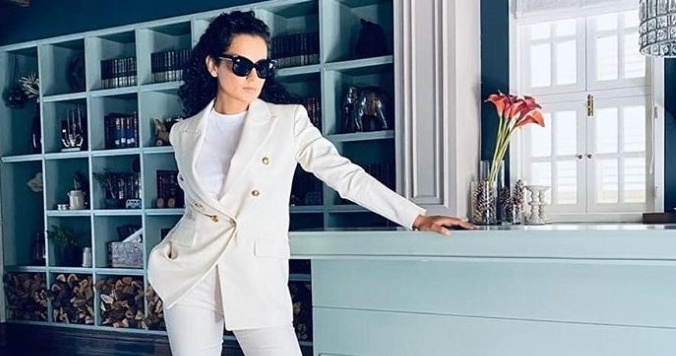 Kangana wore this cream suit in July for the virtual India Pavilion red carpet event for Cannes Film Festival. The actress uploaded two images of herself wearing the chic suit, and wowed us with her glam stay-at-home look. The double breasted suit is a subtle nod to 80s fashion, with lightly padded shoulders and the gold button details mimicking the retro suit trends. Her pointed white stilettos paired with her black sunglasses are the icing on the cake and make her look like the ultimate star.
Alia Bhatt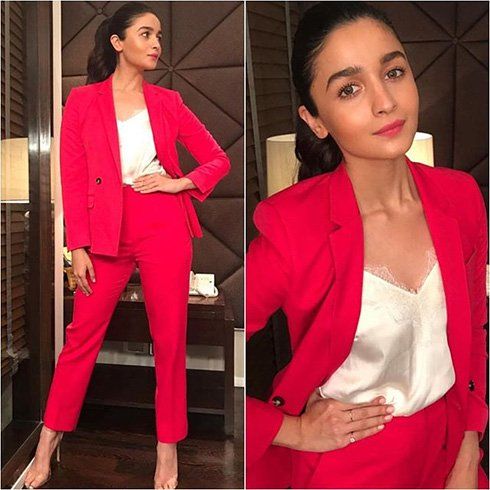 The 27-year-old actress looks drop dead gorgeous in this pillarbox red, two piece suit. Whilst newer fashion trends have seen women ditching the tops to button up their blazers, Bhatt shows off a more casual approach to wearing her suit blazer open. Underneath, she wears a simple cream coloured satin lace slip to break up the colour red.
Malaika Arora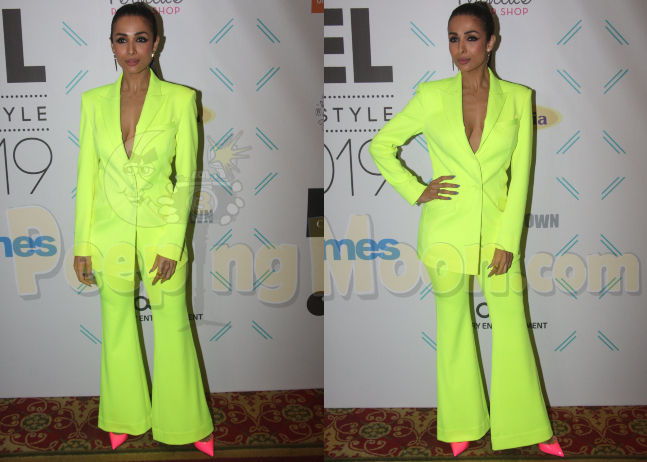 Yes. Malaika Arora wore an entirely fluorescent two piece suit to a red carpet event. This neon look isn't for the faint hearted but we must applaud the effort behind Arora's bold fashion choice. She pairs the suit with a pair of pointed fluorescent pink stilettos and wears the blazer buttoned up to create a plunging neckline.
Sonam Kapoor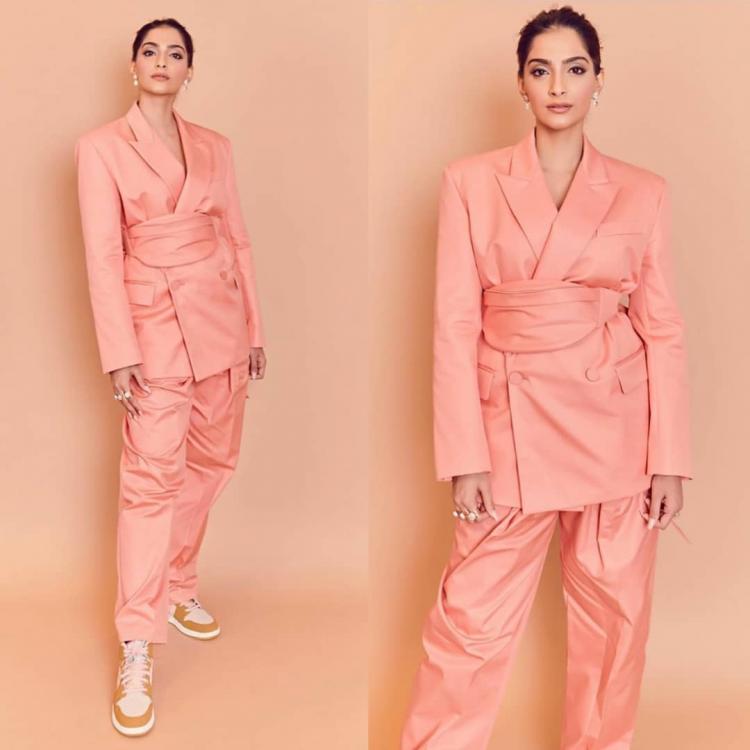 This pastel pink suit is one of the many beautiful pieces from Rihanna's fashion line, Fenty. This suit has famously been worn by Rihanna, and Sonam Kapoor looks equally as stunning in the feminine pink number. Unlike conventional suits, this set fits more into the street style category as it features a stitch in belt detail which sits above the waistline, and baggy trousers. Kapoor keeps it cool with a pair of high top sneakers and a pair of dangly earrings.
Deepika Padukone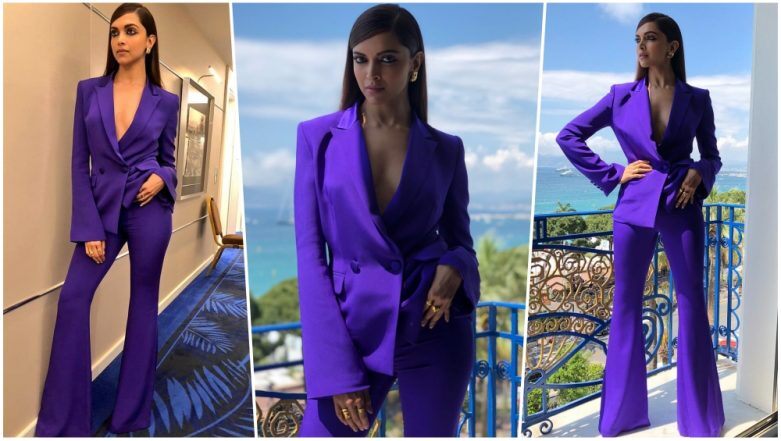 Deepika's stylist deserves a gold medal. This purple power piece shows off Padukone's tall athletic figure and instantly draws the eye with its dashing violet colour. The star wears the blazer buttoned up with her hair worn down with a side parting, and the whole look is straight up iconic.
Katrina Kaif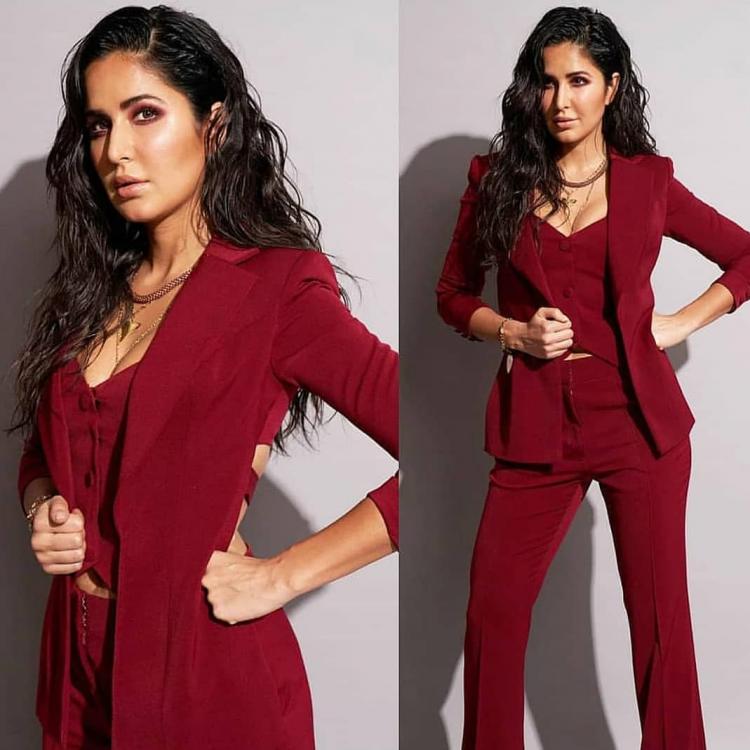 Katrina Kaif wore this crimson red three piece suit at the GQ Best Dressed Party and we can't get enough. The outfit takes inspiration from a classic men's three piece, and features a cropped and fitted corset style waistcoat instead of a long traditional version. The back of the reveals a paneled backless detail which gives the outfit an entirely different illusion from behind.
Priyanka Chopra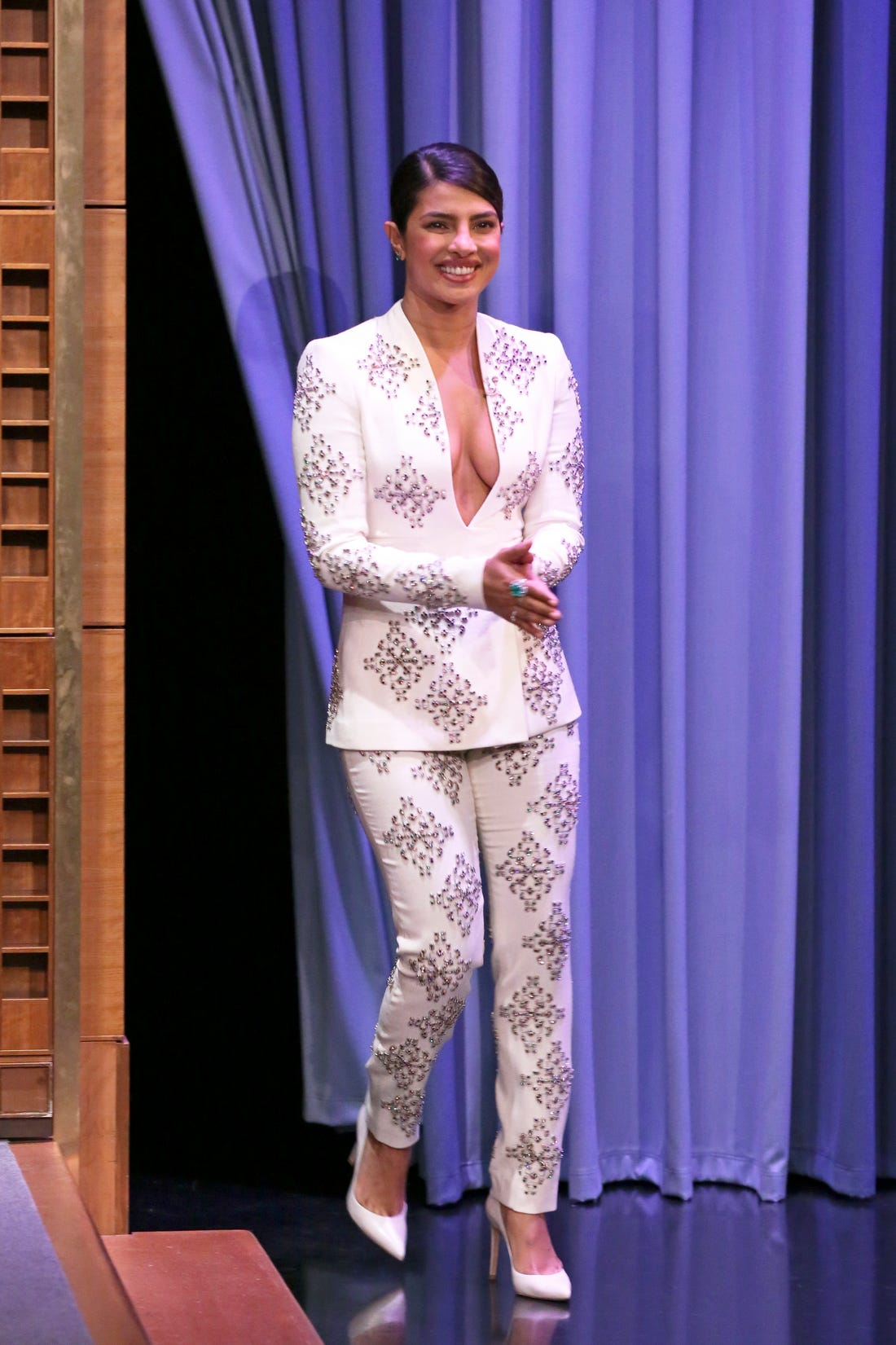 Chopra is no stranger to the suit. The 38-year-old actress has worn several brilliant suits over the years on the red carpet and in TV interviews however this particular number which she wore while appearing on the Jimmy Fallon show stands out as a favourite. It features a plunging neckline and hand stitched rhinestone details across the top and bottom. The top half of the suit is a cross between a blazer and Indian kurta top as it features no buttons.